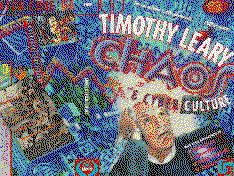 Timothy Leary
---

Tim Leary, who died on may 31 , 1996 in Beverley Hills, has been an inspiring personal friend, to whom we dedicate this honorary site.
May you, the readers, get inspiration and inspirition from his last and greatest trip, the one over the threshold into the true unknown.

Death is when we remember we are not alone (ls)

suggestion: let's call the Tim Leary memorial Day "Smile Day"
How about the day before the full moon in June? or the last day of Beltane? Or febr. 9?

---
© NetInfo 4/96