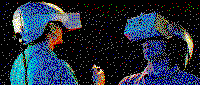 Virtual Reality: de metafysische kermisattraction
VR: the metaphysical carnival-ride
See www.lucsala.nl/vr.pdf for the 1995 version
---
A 1989

(prepress)/1990 Dutch language book about Virtual Reality, with all the classical texts, by John Perry Barlow and Luc sala, contributions by all the VR pioneers.
Het eerste en anno 2012 blijkbaar het enige boek over VR in het Nederlands met o.m. alle klassiekers uit de vroege jaren 90.
De papieren versie is uitverkocht, maar alles staat op internet
nu in ge-update-versie anno 2014 met o.m. alle klassiekers.
Hier staat de PDF van het nieuwe boek (in bewerking)
---
Andere artikelen over VR uit 1995
Andere artikelen over VR
Bedrijven op VR gebied
---
---
---
© NetInfo 8/95 -BCE